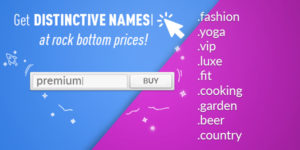 This summer we sell extraordinary names at extraordinary prices: the registration of selected premium domain names is available with 25% discount until 30 September 2019
The TLDs that participate in this promotion:
Generics: .work, .vip, .casa, .country, .luxe, .nrw, .kiwi
Geographics: .london, .miami, .boston, .bayern
Lifestyle: .fit, .yoga, .surf, .art
Consumer Interests: .fashion, .wedding, .cooking, .beer, .vodka, .video
The Great Outdoors: .fishing, .garden, .horse, .rodeo
Legal Professional: .law, .abogado
To give you an idea of the prices, we have hand-picked some of the most interesting domains and the most interesting part is that the prices will be the same for all resellers in all tiers and all memberships.
Loading the data table...
Subscribe to our newsletter
Looking for the best Domain Reseller Program?
OpenProvider offers you the best prices in the market and more. Register your .com domains for only $8.57 now!