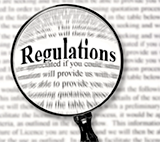 As a registrar, we want the new gTLDs to be as easy as possible: simple accreditation, no unusual limitations, just a no-nonsense registration. Luckily this is not a problem in most cases. Of course there are some restrictions, like for the geographical extensions or the really exotic ones, but most of them can just be registered freely. One of the registries we really like to co-operate with is Donuts: a huge portfolio of 200+ extensions, all of them open, all of them following the same rules and clear launch phases and pricing schedules.
The amendment to our registrar contract we recently received was thus a big surprise: in this amendment, Donuts puts additional requirements to a large number of extensions. Those requirements appear to be dictated by ICANN, in its turn initiated by organizations representing interests of industries and trademark holders.
Regulated extensions
What changes will we face? From this week, many of Donuts' extensions have been marked as 'regulated extensions' or even 'highly-regulated extensions'. For the exact provisions, please read our news item; below follows the summary and some background information.
For the 'regulated extensions' such as .insure, .music and .health (a full list can be found at the end of this blog), you need to include in your agreement with the registrant certain provisions, that the registrant complies with all applicable laws and that he, when collecting and maintaining sensitive and financial data, will implement appropriate security measures. Most customers will have already foreseen such provisions in their agreements.
Highly-regulated extensions
The interesting part starts with the 'highly-regulated extensions', which include for example .surgery, .attorney and .university (the full list can be found at the end of this blog). Apart from the provisions applying to the 'regulated extensions', the following provisions apply as well:
The registrant needs to provide an up-to-date administrative contact for the notification of complaints or reports of registration abuse. As well as provide the contact details of the relevant regulatory or industry self-regulatory bodies in their main place of business;
The registrant must be able to provide any necessary authorizations, charters, licenses and/or other related credentials for participation in the sector associated with such highly-regulated TLD;
The registrant must report any material changes to the validity of the Registrant's authorizations, charters, licenses and/or other related credentials for participation in the sector associated with the Highly-regulated TLD and still meet the required standards.
.wtf?
Maybe you're wondering now why we are writing a blog about this: it might sound reasonable to regulate .surgery, .attorney or .university – or .creditcard, .lawyer or .casino – a bit.
But the eyebrows raise if you read extensions like .wtf, .fail and .sucks in the list of highly-regulated domains! Apart from the fact that those extensions are really generic: how on earth can a sector be defined that associates with such an extension, let alone be proven that someone handles according to that sector?
Nobody will explicitly admit it, but it is reasonable to suspect trademark protection organizations to be behind these regulations. By regulating those extensions, which clearly have negative connotations, a trademark holder has a very easy way of suspending a domain name that is doing something he does not like.
But what about the freedom of speech? Or the self-regulation of internet? What is the difference between thisbrand.fails and complaintsaboutthisbrand.com? As soon as the legal borders are crossed, there are many ways to get a domain name offline. Such a baseless regulation is not necessary at all.
I expect a few very interesting cases in the nearby future, started by people that search how far they can go within this regulation.
Rightside
Registry Rightside (part of the Demand Media Group like Donuts) also indicated several extensions as (highly-)regulated. Thoses lists are more obvious:
Regulated extensions (requiring the same provisions as those of Donuts) are .degree, .engineer, .gives, .market, .mortgage, .rehab, .software and .vet.
Highly-regulated extensions (requiring the same provisions as those of Donuts) are .attorney, .dentist and .lawyer.
The military extensions .airforce, .army and .navy follow the highly-regulated extensions, but on top of that the registrant must take steps to ensure against misrepresenting or falsely implying that the registrant or its business is affiliated with, sponsored or endorsed by one or more country's or government's military forces if such affiliation, sponsorship or endorsement does not exist.
Overview of extensions
.accountants
.app
.architect
.art
.associates
.audio
.band
.book
.broadway
.broker
.capital
.care
.cash
.city
.claims
.clinic
.cloud
.credit
.data
.degree
.dental
.design
.diet
.digital
.discount
.eco
.engineer
.engineering
.exchange
.fan
.fashion
.film
.finance
.financial
.fitness
.free
.fund
.games
.gifts
.gratis
.health
.healthcare
.insure
.investments
.juegos
.law
.lease
.legal
.limited
.loans
.market
.mba
.media
.money
.mortgage
.movie
.music
.news
.online
.pictures
.radio
.realty
.rehab
.reisen
.sale
.school
.schule
.show
.software
.tax
.theater
.tours
.town
.toys
.trading
.vet
.video
Highly-regulated extensions
.attorney
.bet
.bingo
.casino
.charity
.corp
.cpa
.creditcard
.dentist
.doctor
.fail
.gmbh
.gripe
.hospital
.inc
.insurance
.lawyer
.llc
.ltd
.medical
.poker
.sarl
.sucks
.surgery
.university
.wtf
Subscribe to our newsletter
What are you waiting for?
Create an account today - it's fast and free