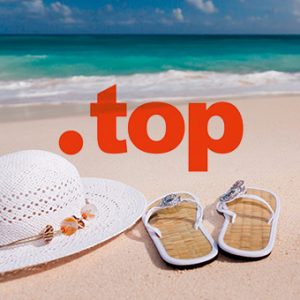 .top, the domain extension for "high level users" is subject to a special promotion. For a short time, this domain registration is available for 1 year for only 4.71 CNY.
Hurry – this promotion is only valid during the month of August for members who have a Membership Plan.
Get your .top domain for 4.71 CNY instead of 7.90 CNY – and enjoy a discount of over 40%!
Why benefit from this promotion?
There are 10 billion search results of "top" listed on Google. And as of now, .top is the most bought new gTLD in the world! It boasts 2.8 million registrations by customers from over 240 countries and regions. .top currently has an average of ten thousand new domain registrations per day!
Top is a simple English word, so nearly everyone understands it without difficulty, no matter what language they speak. It is short and concise, yet a choice that stands out.
If you decide to benefit from this .top promotion, you are also joining a lot of the largest brands of the world! Big names like Amazon, Apple, Baidu, Chanel, Google, Lego and Yahoo! are among the many companies that own .top domains.
Now, are you ready to get on .top with this promotion? Welcome to the front row!
Subscribe to our newsletter
What are you waiting for?
Create an account today - it's fast and free