Price changes .info, .makeup, .irish, Famous Four Media and BostonIvy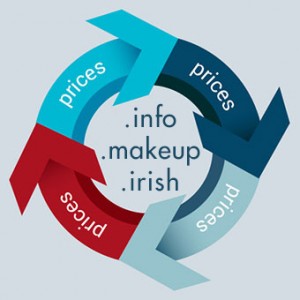 A couple of registries have announced price changes to their extension(s). Remember that up to the effective dates, you can register and/or renew your domain names at the current fees. Registration and renewal is possible for a period of up to ten years.
.info: effective from the 1st of July 2017, registry Afilias will increase the price of its .info domain with $0.89. Our Membership and tier prices will increase with this same amount. The new Membership price will become USD 10.07. This price applies to new registrations, renewals and transfers. The price of other operations remains unchanged.
.makeup: effective from the 14th of April 2017, registry L'Oréal wants to go into a different direction with its extension .makeup. The price for registrations done after the effective date will be USD 5,500.00. Renewals and transfers of existing domains will be charged according to the current price, starting at USD 200.18. Note that .makeup is a restricted extension.
.irish: effective from the 2nd of March 2017, the Membership price of .irish will drop to USD 10.18. More information is available below.
Famous Four Media has reconfigured its continuous domain promotions. This means price increases to several extensions, although all extensions will remain very competitively priced. Full information is available below.
BostonIvy, portfolio manager of a series of financial extensions, will reduce the prices of a number of those extensions from the 6th of March. All these extensions can be registered without restrictions:

The Member price of .broker will drop from $500.18 to $20.18; the reactivation price will become $75.00.
The Member price of .forex will drop from $1,000.18 to $30.18; the reactivation price will become $85.00
The Member price of .markets will drop from $40.18 to $10.18; the reactivation price will become $65.00
The Member price of .trading will drop from $50.18 to $12.18; the reactivation price will become $65.00
Donuts has acquired .irish
Portfolio registry Donuts has acquired the .irish extension from previous registry Dot-Irish LLC. On the 1st of March at 20:00 UTC, this change will become effective in the registry back-ends. From that moment, the following things change for .irish:
The Membership price of registrations, transfers and renewals drops to USD 10.18.
The price for restore of a domain name remains unchanged.
All authorization codes will be reset.
Many previously reserved or high-priced names will be available at the standard price.
2-character domains will be available.
Full Donuts' IDN support will apply for .irish as well.
.irish will be included in Donuts' DPML service.
Famous Four Media updated promotions
Over the past year, our Members have benefitted from extreme promotions on all extensions managed by portfolio registry Famous Four Media. To mutually increase revenue and gain momentum in quality registrations, the registry will be making some changes to their current discount levels, better reflecting the demand curve for our domains. The new promotional prices, available to our New gTLD and Supreme Members, are:
Category High Growth Domains:

.men, .win and .bid
Registration: USD 0.57 (unchanged)
Renewal and transfer: USD 0.87 (unchanged)

Category Generic Domains:

.racing, .webcam, .download, .stream, .date, .trade, .review and .party
Registration, renewal and transfer: USD 1.17

Category Professional Domains:

.loan, .cricket, .accountant, .faith and .science
Registration, renewal and transfer: USD 2.17
Those promotional prices will remain effective until further notice. Note that the price of a multi-year registration is calculated as one year "registration" and an additional number of years "renewal". For example, a 3-year .bid registration will cost USD 0.57 + 0.87 + 0.87 = USD 2.31.
Subscribe to our newsletter
What are you waiting for?
Create an account today - it's fast and free