NIC AT introduces short .at domains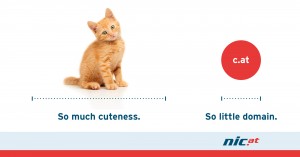 The minimum length of a .at domain has always been three characters due to technical constraints. That is about to change! Starting this summer, registry NIC AT will enable the registration of shorter domain names: names counting just 1 or 2 characters. That means domains like c.at and ch.at become available to the wide public.
Before everyone can register, the registry releases the domains in a more coordinated way, pretty much similar to the launch phases of the new gTLDs that you probably know.
Trademark holders
First of all, starting on the 29th of August at 9:00 UTC, trademark holders get the chance to secure their domain name(s), as long as their trademark covers the Austrian market. The domain name must completely match the trademark or match the distinctive characters in it.
Applications for this so-called Sunrise must be submitted directly at NIC AT. A non-refundable application fee of €120,00 applies, and a successful domain registration is charged €240,00. Duplicate applications will be sent to auction. As soon as you have been assigned a domain name, you can transfer it to Openprovider and any next year's renewal is charged the regular .at fee.
This phase runs until the 23rd of September, 9:00 UTC as well.
Everyone
On the 7th of November, the registry will put all domains that are not yet registered in a public auction. Everyone can bid on each domain name, starting at €72,00. No special restrictions apply: eligibility for a short .at domain is similar to whatever other .at domain. The highest bidder will be assigned the domain name, which he can transfer to Openprovider in the regular way. Like Sunrise, the renewal fees are the regular low fees.
From the 6th of December (the exact time is not yet known) all restrictions are lifted and 1- and 2-character .at domains can be ordered through Openprovider just like any other .at domain.
If you want full information on the introduction of the short .at domains, please refer to the registry's website.
From the 29th of August, NIC AT will inform all domain holders by e-mail about these changed registration policies.
Subscribe to our newsletter
What are you waiting for?
Create an account today - it's fast and free