New gTLDs, what should I do?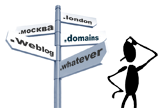 The few new gTLDs that are now available are growing faster than I expected. The pre-registrations were well recorded but the real volumes only came in de days afterwards. The leader of the pack – not only for Openprovider but registry-wide – is .guru. General Availability was released for just barely a week when the applications had multiplied by the dozens. .bike (a Dutch glory?) is the proud runner up which has almost quadrupled at the time of writing.
The new gTLDs do not stop at the moment they enter General Availability. On the contrary! And the beauty of it is that it does not cost extra effort.
Stage fright?
We have noticed that only a select amount of our customers are actively doing something with the new gTLDs. Not surprisingly as it is a new development with Sunrises, Landrushes and General Availabilities which are difficult to keep up with.
But don't make it more difficult than it is: the domains which are available in General Availability are suddenly just as common as .com or co.uk! Registration is realtime, the domain can be visited straight away (although it may feel weird typing a domain like landscape.photography into your web browser), and managing, transferring and deleting… everything works the way you are used to with other extensions.
Okay, there are two differences:
Many registries have pre-defined premium domains. These are domains which cost more than the standard tariff for the extension. It may thus occur that you will be asked in the registration process to agree to this higher price.
If the domain name matches a trademark which has been registered in the Trademark Clearinghouse, then the domain will not be activated directly. The applier will receive an e-mail first with the details of the brand name owner. The applier (domain owner) will then assess whether it infringes on the rights of third parties and can either go through with the registration or cancel it. This process goes through Openprovider, you will not need to change anything on your side.
Once this is all clear then .clothing is just as easy as a .com and .london as a .co.uk.
Take the leap and try it!
No matter how easy the integration is, it will always cost you some time: figuring out the extensions you need, determining prices, placing the extensions on your website and so forth. Perhaps it is wise to simply try it out first to see if there is any demand for it.
Example? Let me use our top hit: .guru. Just add this one extension to your ordering process (if you want to check availability via whois, then use whois.donuts.co) and write a catching article in one of the newsletters to your customers. Guaranteed that you will get some orders from this. If they are sufficient then you know that your customers are ready and can add some more extensions.
Do you think you have found the niche in the market? Then we may have a very special offer for you… Contact your Account Manager and tell them you have become curious about the 'special deal' through my blog!
Subscribe to our newsletter
What are you waiting for?
Create an account today - it's fast and free