New gTLDs and their statistics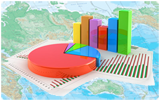 Domains have never been so analysed and registry/registrar dealings have never been so open since the rise of the new gTLDs. Everybody who loves numbers – and I certainly count myself to that group! – will have the time of their lives, if they know where to look.
The official source of all nTLD information is the website of the new gTLD program of ICANN. From that page, you can check the program statistics and see the latest information about delegations, application statuses, contention sets; everything.
This website contains loads of information, but is rather formal and does not dive into detail. Luckily there are other websites that are more useful for the 'normal' user and certainly provide more fun.
For an overall look on the registration numbers for each extension,ntldstats.com is the place to be. It not only lists the volumes (total and daily breakdown) per TLD, but it also analyses the domain volume per extension and per registrar, it investigates the origin of registrants, it checks the parking rate and it even shows you the latest fraud cases.
Diving deeper, you can even find lists of actually registered domain names at Domain Punch. With a 1-day delay you can always view the latest domains and for example investigate why a certain extension is suddenly growing so rapidly, or just be inspired!
Looking a bit further on that website, you can also find that new gTLDs are slowly infiltrating the Alexa Million – the globally used ranking based on traffic data. .guru is highest ranked with searchengine.guru on spot 1.410 and .club is best represented with almost 300 domains in that list – but still far from .com (with more than 50%), .uk (more than 18.000) or .eu (4.500).
Do you have your own favorite nTLD statistics website? Share it with me at blog@openprovider.com!

Published by Siemen Roorda
Subscribe to our newsletter
What are you waiting for?
Create an account today - it's fast and free