New gTLDs in your own language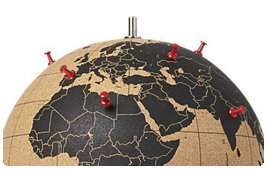 It feels a bit weird to write this blog post in English as it is about all new gTLDs except the English ones… luckily we have many German, French, Italian and even Chinese customers reading this English blog, and that is exactly the intended audience. But do not close this page right away if you are English speaking: it might still be useful to your clients!
The almost 700 new gTLDs might look like a big mess if you look at a full list of it. Structuring them in categories is a good method to find your way more easily. One of the things we learned from the conversations with our (non-English) customers is that some of them do not pay attention to the new gTLDs as "it is all aimed at the English market".
Partially that's true, especially when looking at the generic terms. But hidden in the long lists, there are many local extensions which you can monetize. There are also many English terms that are so generic, that they are used worldwide.
Looking at the breakdown per country, indeed there are several 'local' extensions in the top 10. I ran through all of the extensions and mapped each one to a language. Although not all extensions are available for registration yet, you will see that each language comes with many opportunities!
The extensions are grouped by geographical or generic, and the bold ones are the extensions that are in the respective country's top 10. Extensions that did not yet start their launch phases are marked in italic font.
New gTLDs in your own language

| Language | Extensions |
| --- | --- |
| Italian | Generic: .casa, .data, .guru, .srl, .uno, .voto |
| Portuguese | Generic: .bom, .casa, .data, .guru, .hospital, .voto |
| Arabic | Generic: .بازار, .شبكة, .عرب, .كوم, .موقع, .همراه |
Subscribe to our newsletter
What are you waiting for?
Create an account today - it's fast and free