How to increase revenue with this .GLOBAL tool
LIMITED TIME OPPORTUNITY!
Openprovider and the .GLOBAL team is constantly on a mission to make our resellers' work easier and more streamlined. That's why we're glad to share your new .GLOBAL portal with you:
This is where you can find .GLOBAL logos, banners (standard or customized), marketing texts and everything you need in order to easily run .GLOBAL specials on your own platforms. This is a good idea not only because of the highly discounted registration price that we can offer during June and July 2016 (Get massive discounts!), but also because:
.GLOBAL is a universal and generic TLD, suitable not only for physically global businesses, but also for small businesses and organizations that wish to enhance their appeal and attract a global customer base. A good example can be modern businesses (big or small, start-up or well-established) that operate primarily online, because as we all know, the internet allows anyone anywhere to be a global player. Let's support that fact and give your customers a chance to consider that approach for their own plans and dreams.
.GLOBAL is a quality TLD with a slightly higher price compared to other close-to-giveaway-domains. The price point ensures less abusive registrations, a clean namespace, genuine registrants that are more likely to develop and renew the domain (which equals good margins and recurring revenue for you as a reseller).
.GLOBAL is currently one of the top performers out of the new TLDs in the same price range, as well as the 5th best-selling new TLD when it comes to premium domain names

.
The .GLOBAL name space has had a stable growth since launch.
.GLOBAL can also work as a great strategic complement to geographic TLDs and ccTLDs when it comes to well-rounded domain name portfolio building

. For instance, it can be used as a global umbrella site, from which the customer is easily navigated to the relevant local site or product.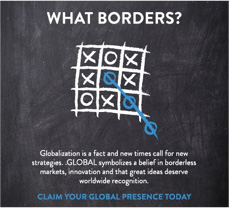 In other words, simply grab some materials from the portal, launch a promo of your own and request customized materials or articles to go with it if wanted. Give your customers a ticket to go outside of the box. Sometimes a context and enhanced visibility is all that's needed to make a big difference. There is no better time to use this knowledge together with the portal and bargain pricing in order to boost your .GLOBAL sales and earn long term quality results.
Subscribe to our newsletter
What are you waiting for?
Create an account today - it's fast and free