Happy birthday, new gTLDs!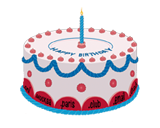 One year ago, on the 4th of February 2014, the first new gTLD was born. After a lengthy "delivery" period of contracting, testing, delegation, Sunrise and Landrush the dotShabaka registry gave birth to its شبكة. extension ("web" in Arabic) which entered its General Availability at midnight. The real start of the new gTLDs was the day after, when registry Donuts opened regular registration for its first set of seven extensions, including .guru which is still well-seated in the new gTLD top 10.
Twice as many extensions
The internet took almost 30 years to grow from 0 to slightly more than 300 top-level domains (not counting all second-level domains like .org.uk or .co.at). Just one year further, 500 more top-level domains have been added to the root zone database, of which around 330 are publicly available at the time of this writing: doubling the original number.
And we're not there yet: some 240 more extensions are impatiently waiting for their time to be released to the wide public. Most of them will face their own births during 2015, some of them will have to wait a little bit longer. Who knows what the next round of new gTLDs will bring!
Substantial market share
There are huge registries worldwide: .com is lonely at the top with almost 120 million domain registrations, followed at a distance by some other heavyweights with 10 to 15 million domains, like .de and .uk. But remember: those extensions had many years to grow to what they are nowadays!
Grouping all new gTLDs together, the .nTLD "extension" comes in at the 11th place worldwide with its 4 million domains. In just one year.
Its monthly growth of 300.000 to 400.000 domains is comparable to that of .com and larger than that of any of the other extensions that do not even have an annual growth of these numbers.
Extensions to expect
In the past year all kinds of extensions have launched: generics like .tips and .email, geographical extensions like .london and .tokyo, community extensions like .archi and .versicherung, local extensions like .tienda and .jetzt and internationalized extensions like .дети ('kid' in Russian) and .在线 ('online' in Chinese).
In 2015 we will see a similar diverse distribution. Interesting extensions that will most likely be launched in this year are .forum, .game, .news and a number of promising geographical extensions like .barcelona, .amsterdam and .africa.
Personally I am looking forward to the ICANN-held auction on the 25th of February, in which the extensions .app, .blog and .store will be assigned to the highest bidder.
Unfortunately other top extensions are still put on hold by ICANN as they are 'too similar' to other applied-for extensions: .shop, .web, .hotel and a couple of others. As ICANN is still investigating those cases and no consensus yet exists, it is completely unpredictable when those extensions will be delegated. That might be in the course of this year, but I would not be surprised if they are delayed until 2016 or even longer.
Growing up
During the last year we have been experiencing the birth of a huge number of new extensions. While this baby boom continues over the next year, we will now go through the growing up process as well, and just like normal life, it will be full of discoveries. Who could have foreseen that .xyz would grow to a market share of 20% and that the runner-up is the Chinese .net? Will the city TLDs be able to bind their citizens? The top-30 listings of .nyc, .berlin, .london, .tokyo and .bayern show a positive trend. Will the new gTLDs cannibalize the established extensions or will they brotherly co-exist?
Time will tell! You're all invited to take part in the second, third, tenth and hundredth birthday party of the new gTLDs. Okay, maybe skip the word "new" at that time…

Published by Siemen Roorda
Subscribe to our newsletter
What are you waiting for?
Create an account today - it's fast and free