Blog
Domain Security News
What is the difference between DMARC and EasyDMARC?

Are DMARC and/or EasyDMARC new to you, and are you feeling confused about it all? We are here to help you clear it up!
What is DMARC?
DMARC is an email authentication protocol. It was developed as an improvement and extension of the existing protocols of SPF and DKIM. As it was presented in 2012, DMARC is celebrating its 10th anniversary this year. And we can say it is a successful one! After 10 years on the market, DMARC is a leading security protocol used by billions of mailboxes around the globe. That amount is still growing, as more and more companies recognize the need for strong cybersecurity.
The development of DMARC resulted from a collaboration between fifteen member organizations that wanted to improve email security protocols together. These fifteen member organizations include some of the biggest names of the Internet industry. You can feel secure, knowing that you are using a protocol created, approved, and used by giants like Facebook, Google, Hotmail, LinkedIn, and PayPal.
But what exactly is DMARC? Boiled down to the essentials, DMARC verifies whether the sender of an email that claims to be from your domain actually has your permission to send this email. Utilizing DMARC prevents hackers from sending unwanted emails from your domain. Meanwhile, it also helps increase your deliverability rate for the emails you actually want to send. That results in loyal customers, who trust you and your company. You can read all about DMARC works on the official DMARC website.
It is important to know that DMARC by itself is not a tool you can buy. It is a protocol that is deployed in the form of adding a domain record to the DNS. Of course, you can do this yourself, but you need to know what you are doing. If you make a mistake, all of your emails may actually end up marked as spam, which is the opposite of what you want to achieve. So, if you or your end customers are not comfortable doing this alone, EasyDMARC comes to the rescue!
What is EasyDMARC?
EasyDMARC is the best solution for those who don't want to deal with DNS records themselves, or who don't have the time to keep up with all of the work involved with this. EasyDMARC makes DMARC deployment easy and requires no expert knowledge from you. This tool creates the DNS record for you and automatically sends you weekly reports about your email every week. Moreover, it contains many useful integrated features, including blacklist checks, phishing URL checks, reputation monitoring, and more!
You can easily purchase EasyDMARC for your new or existing domains through our control panel. When buying a domain, you can easily add EasyDMARC to the order by checking the box with the product name at checkout: just like you can already add products like SSL certificates or Whois protection. Or, for existing domains at Openprovider, you can activate a subscription for the domain of your choice through the domain management page.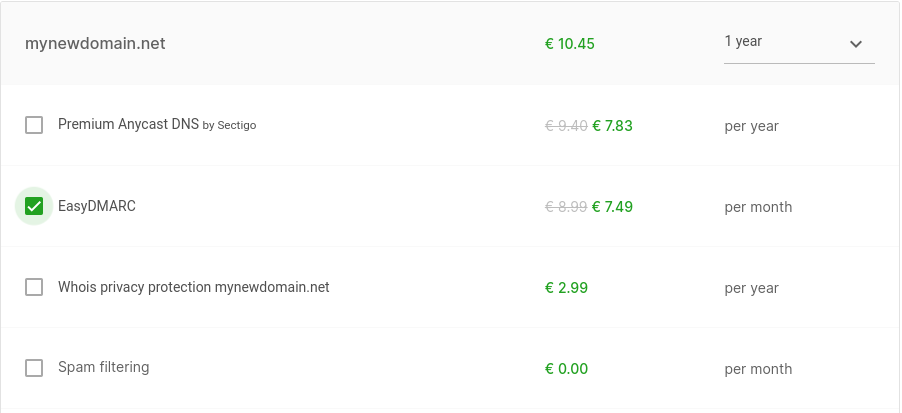 Prices for EasyDMARC (covering one domain and up to 25,000 emails per month) are $6.46/mo for Members and $8.99/mo for non-Members.
Got a question about EasyDMARC?
You can consult a detailed overview of frequently asked questions about EasyDMARC in our Knowledge Base. On top of that, this comprehensive guide contains all the information you need to set up EasyDMARC for yourself.
If you have any other questions, feel free to contact our support team. We are excited about this product and we are always happy to help you out!
Subscribe to our newsletter
What are you waiting for?
Create an account today - it's fast and free