Discontinuation of 8 CentralNic extensions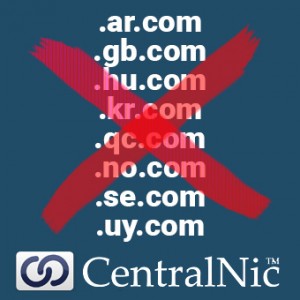 Registry CentralNic, managing a wide number of second level domains like .br.com and .us.com, has announced that they will discontinue eight second level domains. They have investigated the domains and their usage and found that the domain volume is very low, and most domains do not carry an active website. The discontinuation means that with immediate effect, the following extensions can no longer be registered, transferred or renewed:
.ar.com
.gb.com
.hu.com
.kr.com
.qc.com
.no.com
.se.com
.uy.com
The cut-off date of those extensions is the 30th of April, 2017. To ensure continuation until that date, the registry has, at no cost, extended all domain's expiration dates to the 30th of April, 2017. Further renewals are not possible.
If you have any domains registered in the affected extensions, we will contact you with further information.
There are no plans to discontinue any other domains managed by CentralNic.
Subscribe to our newsletter
What are you waiting for?
Create an account today - it's fast and free