The road to 2 million domains
Two great milestones in just 3 weeks time, that's worth a blog post! On the 18th of June, the 6 millionth .nl domain name was registered – and just like the 5th millionth, it was registered by Openprovider. And a few days later, we reached our own milestone: 2 million domain names under our management.
This is not unexpected. While the global domain market slowly comes to stabilisation (there is still growth, but not more than a few percent), we see our domain volumes grow year over year. You can take a look at our milestones of the past 8 years below: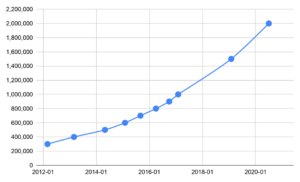 The question may arise how we are able to achieve such growth rates in a market that is slowing down. The answer to that is in the definitions, in what you count. Global registration rates are accumulated over all registrars, while we only count our own domains. A domain moving from another registrar to Openprovider does not count as growth on a global level. But does increase our own numbers.
Part of our success is our high renewal rate. What you don't lose, you don't need to get back. Our renewal rates are far above the industry average. In some of the bigger extensions, they go up to 90%.
But the majority of our growth is a result of our investments in portfolio consolidation over the past 10 years. We have developed so many tools for easy domain transfers that there is almost no reseller that cannot benefit from that. This, combined with our cost price-based Membership model, a complete range of extensions and a personal approach to each customer, leads to our success. Or, as our core value says: "Quality results in quantity!"
At Openprovider, we are fully confident that we will reach our next milestone before the end of this year. The only question is: will that be 2½ or 3 million domains?
Some fun facts about the 2 millionth domain and the path towards it
We happy to see that it's a .nl domain – our home TLD! It was a transfer, by the way, by a customer that is consolidating his domain portfolio to Openprovider.

Secretly, we am also more than happy to see that the domain belongs to a "normal" customer and was not registered by a domainer, drop catcher or even as an abusive domain. Of course, we love our domainer customers as well. But it's so much more fun to celebrate a milestone with a domain holder that is truly using the domain!

We have never seen so much activity on our internal Slack channels in the hours before we reached this milestone: live counters, polls, predictions

…

W

e think we can say that we lost quite a few productive hours on the 7th of July!

We love to celebrate our milestones, but due to the current working-from-home policies this time the cake was a small one…
Subscribe to our newsletter
What are you waiting for?
Create an account today - it's fast and free