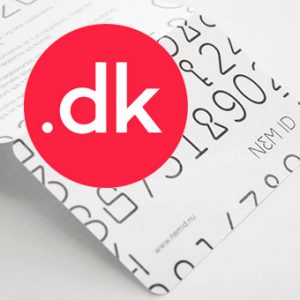 During the last months of 2017, .dk registry DK Hostmaster will roll out a couple of changes that you need to be aware of: the identity of new Danish registrants is now checked with NemID, from the 19th of December new terms will apply and from the 1st of January the price will increase.
Registrant identification
Since a few weeks, .dk domain name holders residing in Denmark will be required to proof their identity by means of the digital identification platform NemID. This mandatory, one-time ID control is initiated the next time a registrant logs in to the self service panel of the registry, for example for activating his domain name. Once the identification process is completed, the registrant can choose to log in with his existing user ID next time.
The NemID identification has been used as a login identification in Denmark for many years, so Danes a very familiar with this procedure. A lot of registrants are already using NemID to log in to DK Hostmasters self-service.
New terms and conditions
On the 19th of December, new terms and conditions for .dk domain holders become effective. The biggest changes are improvements with respect to transparency: the terms have been streamlined and reorganized, and they have been written in a more understandable language.
The major substantive changes to the terms are:
It will not be possible to apply for a domain name that is blocked
A new method for identity control for foreigners (and anyone else who does not have NemID) is introduced, where the applicant / registrant must submit documentation for his / her identity on request
An assigned proxy can dispense on behalf of the registrant without the registrant having to approve the agent's actions. However, a proxy may not delete or transfer a domain name or correct the registrar's address and e-mail address.
Price increase
On the 1st of January 2018, the price of a .dk domain will increase with DKK 4.00. This change will apply to all tiers and Memberships. The new Member price will be DKK 40.72. If you are active in the Scandinavian region, please be aware of the previously communicated price increase for .se and .nu as well.
Subscribe to our newsletter
Looking for the best Domain Reseller Program?
OpenProvider offers you the best prices in the market and more. Register your .com domains for only $8.57 now!