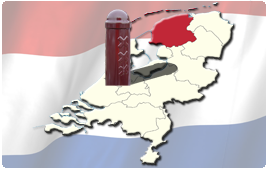 Within six months, two new Dutch domain extensions have been introduced: .frl serves the Frisian market since the beginning of this year and .amsterdam will start later this month. As the only Dutch registrar that is actively participating in the new gTLDs, Openprovider is closely involved in both extensions. It's interesting to take a look at the similarities and differences between both extensions.
Similarities
Both extensions are managed by the same company: Metaregistrar. .frl is fully owned by themselves, .amsterdam is a co-operation with the municipality of Amsterdam. This fact shows up in the introduction strategy of the extensions.
Both kick off with a pioneer phase in which the most involved organizations play a leading role and provide the extension with a first bit of awareness, even before the official launch.
The pioneer phase is followed by a quick Sunrise to ensure first priority to trademark owners. A Landrush or priority phase then resumes. In this phase, priority is defined on legal entity or natural person, inside or outside the Amsterdam region. The General Availability, after all, marks the moment from which everybody can register his domain, as easy as they would register their .nl or .com domain name. All details and prices on these startup phases are available at our .amsterdam page.
Further similarities include the complete openness of both extensions (a registrant can live outside Frisia (Friesland) or Amsterdam), the thoroughly prepared and executed marketing campaigns and the strategy behind the "premium domain names" which prioritizes a well-thought plan above a bag full of money.
Differences
Considering the above, there are not many differences on technical level and the differences that exist are behind the scenes: .frl runs on the OpenRegistry back-end whereas the Amsterdam city government selected the .nl registry SIDN to provide the infrastructure.
It's more the extensions' characters that make the difference: Frisia versus Amsterdam; polder versus big city; countryside versus urban. The physical differences being that large, the perception of these two domain extensions is found to be large as well.
A good example is the pioneer's phase: .frl pioneers are companies and persons that proudly want to show off their Fisian entity with domain names like weidenaar.frl (sausage producer), ljouwerterskutsje.frl (the local sailing sport's hero) en pietpaulusma.frl (a famous weatherman from Frisia). For .amsterdam, the economic interest are more visible: a domain name like taxi.amsterdam counts numerous candidates interested. Unfortunately for them: generic names are not allowed in the pioneer phase, except for one: dance.amsterdam.
Although .amsterdam is not yet live, we observe a similar difference between the already registered .frl domain names and the pre-registrations for .amsterdam. While the Frisian domains often resemble a company or person's name, it's hard to find a non-dictionary term in the .amsterdam list.
Other geo TLDs
Can we sense a similar difference for the other geographical extensions? The most interesting case is Germany, as there are no less than eight German extensions that represent a city or a region. For example, is the difference between .berlin and .bayern comparable with the difference between .amsterdam and .frl?
As I do not have the data to investigate all domain names, I asked this question to a couple of German registries. Concrete numbers or conclusions are hard to get, but the gut feeling indeed shows such a trend. Let's take Bavaria (.bayern) as an example, a region with a very strong identity, just like Frisia. This shows off in registration volumes (which are, for example, much higher than those in .nrw – North Rhine-Westphalia), but also in the large share of personal names being registered under .bayern. This is a contrast with .berlin, which sees many generic terms being registered. After one year of .berlin, this changes a bit as people start registering their desired name to replace their sub-optimal existing .de domain.
As said, it's all a "gut feeling" and numbers are hard (if not impossible) to find. But with or without numbers – each extension will require its own approach to be widely accepted among its target audience.
Subscribe to our newsletter
What are you waiting for?
Create an account today - it's fast and free