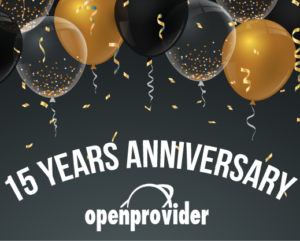 We exist for 15 years, sharing our knowledge and hard work with our resellers, letting you enjoy what you do and automating the rest. This results in huge growth for all of us: we are now managing more than 1.6 million domain names!
What will happen?
To celebrate our anniversary, the full Openprovider team, from all our offices gathers together for a long weekend. This corporate event will take place between the 19th and the 22nd of September.
Our offices will be closed on Thursday the 19th of September from noon, and Friday the 20th of September the full day. Our sales and support teams are not available on those days. Of course, you don't need our teams to use our control panel or API!
Why almost 4 days?
As you know, our teams are located in different continents. Our corporate event brings us together in the middle. Thursday and Sunday are days for traveling, the other two days will be used to strengthen our teams and of course to improve Openprovider!
Can we reach you in case of emergency?
Do you encounter a problem that cannot wait until Monday? First, please read our Knowledge Base on openprovider.help – almost 1.300 articles include almost everything you need to know. If you can't find the solution and the case is urgent, send us an e-mail in english on support@openprovider.com with the word "URGENT" at the beginning of the subject line. We will regularly check our support system and pick up the urgent tickets.
Subscribe to our newsletter
Looking for the best Domain Reseller Program?
OpenProvider offers you the best prices in the market and more. Register your .com domains for only $8.57 now!