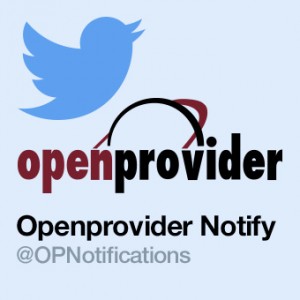 Wij hebben onze @OPNotifications Twitterfeed in het dashboard van ons control panel geïntegreerd. @OPNotifications is het account waarop ons technische team berichten plaatst over onderhoud of storingen in de systemen van Openprovider, de registries en andere leveranciers. Door deze feed te integreren in het dashboard ben je altijd op de hoogte van dit soort situaties.
Als je niets wilt missen van Openprovider, volgt dan @OPNotifications en @openprovider_nl en je bent op elk moment op de hoogte van nieuws, promoties, aankondigingen en meer.
Subscribe to our newsletter
Looking for the best Domain Reseller Program?
OpenProvider offers you the best prices in the market and more. Register your .com domains for only $8.57 now!