Premium domains at extraordinary prices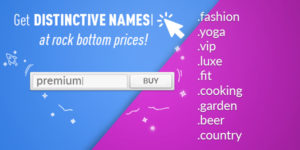 This summer we are selling extraordinary domain names at extraordinary prices! The registration of selected premium domain names is available with a 25% discount until 30 September 2019.
The TLDs that participate in this promotion include:
Generics: .work, .vip, .casa, .country, .luxe, .nrw, .kiwi.
Geographics: .london, .miami, .boston, .bayern.
Lifestyle: .fit, .yoga, .surf, .art.
Consumer Interests: .fashion, .wedding, .cooking, .beer, .vodka, .video.
The Great Outdoors: .fishing, .garden, .horse, .rodeo.
Legal Professional: .law, .abogado.
And the best part is that the prices will be the same for all resellers, no matter whether you're a Member!
Subscribe to our newsletter
What are you waiting for?
Create an account today - it's fast and free