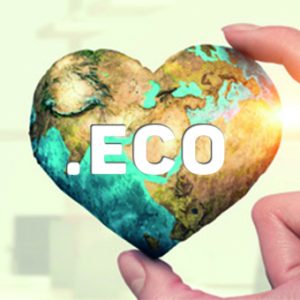 .eco is the new domain extension for companies, institutions, NGOs and individuals committed to a positive change for the planet. Immediately recognised worldwide, it is a symbol of trust for those working towards a sustainable future.
This domain will help organisations, businesses and people in general to be recognised for the good work they do: a campaign to protect a special place, launching a product or service that helps people make better decisions, etc.
In the .eco Champions program, companies are already using the .eco domain to share their work in sustainability, and non-profit organisations are using it to highlight their role in the environmental movement.
As well as the .eco extension, the .eco System presents two other services: the .eco Profile and the .eco Trustmark. When they activate an .eco domain, registrants are asked to complete their .eco profile and to make a commitment to environmental action.
The Early Access Program begins on 18 April and will last for seven days. The General Availability Program will begin on 25 April.
Subscribe to our newsletter
Looking for the best Domain Reseller Program?
OpenProvider offers you the best prices in the market and more. Register your .com domains for only $8.57 now!