Coming soon: .eco – show off your good side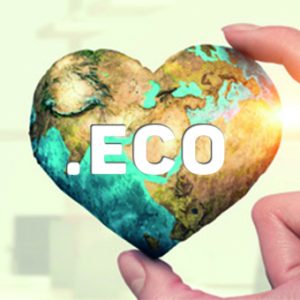 .eco is the new domain extension for companies, institutions, NGOs and individuals committed to a positive change for the planet. Immediately recognised worldwide, it is a symbol of trust for those working towards a sustainable future.
This domain will help organisations, businesses and people in general to be recognised for the good work they do. For example, .eco would be a great domain extension for a a campaign to protect a special natural place, or for a product or service that helps people make more sustainable decisions.
Join the .eco community
At go.eco you can find everything about the .eco domain and its community. We have highlighted a few components of the website for you below:
Activating an .eco domain extension includes creating an .eco Profile on go.eco. Here, you can describe your business and explore profiles of other community members.
When you activate an .eco domain extension, you will also be asked to take the .eco Pledge. This pledge includes taking on a commitment to generate and promote sustainability. It also includes the promise that you will openly disclose the actions you are taking to create a better world.
Moreover, in the .eco Champions gallery, you can see which companies and non-profit organisations are already using the .eco domain. All .eco Champions share their vision for a globally connected, online community that encourages positive environmental change. Take a look at the existing .eco champions here!
Get your own .eco domain now!
At Openprovider, the early access program for the .eco extension will begin on 18 April 2017 and will last for seven days. The general availability program will start after on 25 April 2017.
Subscribe to our newsletter
What are you waiting for?
Create an account today - it's fast and free