Blog
Domain Reseller News
Plesk webinar: Sell Solutions, Not Infrastructure!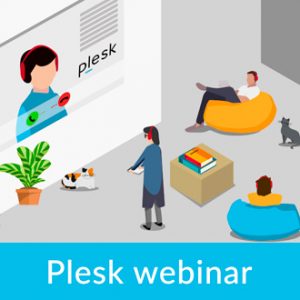 As the reseller industry is changing, Plesk has introduced several new solutions to the market. They will also be hosting a series of interactive webinars, in which Plesk's CSO will share his insights on recent industry changes and developments.
New products and solutions
With the introduction of Plesk Onyx and Web Editions, Plesk has provided Service Providers with the ability to target specific customer groups. After all, one license does not fit all!
From now on, Plesk will also take its targeted offerings to the next level with Plesk Server Solutions. As hyperscalers are commoditising hardware, Service Providers need to differentiate and specialize in order to stand out and remain successful.
Plesk has now taken the focus on the next target groups like SMB IT-Admin, Developers, Agencies and Shared Hosters. They have also created the ability to provide tailored out-of-the-box configurations. On top of this, Service Providers now have the option to offer a selection of top extensions pre-installed.
Plesk's focus is mainly on two key solution groupings:
Business Servers (helping service providers serve the needs of SMBs in the variants for 1-10, 11-50 and 51-100 employees).
WordPress Servers (helping service providers serve the needs of WordPress professionals. Both as a direct offering and as an offering for Digital Agencies).
Webinars
Do you want to know more? Plesk will host a series of interactive webinars in which Diarmuid Daltún, Chief Sales Officer at Plesk, will share his insights on trends and how the industry is changing. He will be answering questions among the like of "How should I guarantee a growth path for my organisation?" and "How can I embrace the current changes and still enjoy attractive margins?" If you want to hear his answers and learn about the new bundled solutions, that Plesk is offering – please register for one of the webinars here.
Subscribe to our newsletter
What are you waiting for?
Create an account today - it's fast and free