Blog
Domain Reseller News
Grow your revenue with managed WordPress hosting

Most hosting service providers use WordPress as the engine of their infrastructure. However this does not actually drive their profits. Spurred by the success of specialist service providers, traditional hosting providers are now developing managed WordPress products to better serve users, while also generating revenue from the immensely popular (but free) software.
WordPress is by far the most widely deployed application on the infrastructure of most hosting service providers (HSPs). However, because the software is free and open source, it doesn't necessarily translate to revenue for them. In order to create a viable business model around this popular product, a small but growing group of specialist service providers is offering managed hosting services based specifically on the WordPress platform. The success of this group in serving web designers and developers, along with other user types, is leading more traditional hosting providers to develop (paid) managed WordPress products of their own.
Plesk can help HSPs attain a competitive advantage. With Plesk, an HSP can provide many levels of services that take managed WordPress hosting to the next level. Additionally, Plesk's tools and capabilities potentially reduce costs by lowering administration and management overhead, making managed hosting even more profitable.
Pre-packaged solution to offer managed WordPress Hosting
Plesk recently released WordPress Edition: the perfect all-in-one solution for agencies and web professionals to make creating professional websites fast and easy. Plesk WordPress Edition is a ready-to-go solution, based on best practices like pre-configured WordPress auto-hardening, web application firewall, and IP address banning. WordPress Edition includes the best extensions handpicked for security, website speed, and productivity.
In order to pack WordPress Edition into a ready solution for end-customers, HSPs can utilize a scripted toolset or cookbook. They can use this to automate the set-up of their offered plans, accelerate the time-to-market, and increase margin. Plesk enables hosting providers to stand out from the competition and increase revenue by adding Plesk WordPress Edition as an extra layer on top of the infrastructure. In this way, they can turn a generic hosting plan into a targeted business solution.
Product features
More and more end customers are looking for WordPress hosting solutions at a competitive price. If you are a service provider and would like to offer your own WordPress solutions to address these needs, then have a look at the many features of WordPress Edition:
Plesk WebHost Edition.

WordPress Toolkit – Mass-management of multiple WordPress instances with just a few clicks.

Smart Updates for WordPress – Deep learning algorithm that analyzes required WordPress updates and performs them without breaking a website.

SEO Toolkit Personal Edition (for 30 websites) – Designs and executes SEO strategy, monitors keyword rankings, and benchmark website against competitors.

Speed Kit (for 1 website) – Accelerates website with a single click.

Backup to Cloud Pro – Schedules Automatic Backups to the most popular Cloud Storages (AWS S3, Google Drive, Microsoft OneDrive, etc.).

ImunifyAV (ex. Revisium Antivirus Pro) – Detects and cleans malware with one-click.

Uptime Robot – Sends alarms about downtimes of the websites and your servers.

Google PageSpeed Insights – Identifies possibilities to speed up your website and accelerate sales conversion.

Sucuri Site Scanner – Detects website security issues, blacklist warnings, and malware visible in the source code.

BoldGrid (for 1 website) – Powerful Drag & Drop Website Builder for WordPress.
Pricing
Below, you can find a comparison of single purchase pricing vs bundle pricing in tiers and memberships. Free Plesk extensions like Plesk Migrator, WordPress Toolkit, and more are not listed here, but they are still included in the Plesk WebHost license. All prices below are excluding VAT.
Product
Single purchase price
Bundle price
Bundle price in memberships
Plesk WordPress Edition
In tiers
In tiers
Basic
Professional
Expert
Supreme

– Plesk License WebHost Edition

€18

€45

€42.5

€42.5

€40

€40

– WordPress Smart Updates

€18.05

– SEO Toolkit Personal Edition

€18.05

– Speed Kit

€5

– Boldgrid

€4.75

– ImunifyAV (ex. Revisium Antivirus Pro)

€4.75

– Backup to Cloud Pro

€3

Total

€71.6

€45

€42.5

€42.5

€40

€40
Ordering is easy from your control panel. Go to license management, select "order new license", then "Plesk Bundles", "WordPress Edition" and follow the steps to complete the purchase.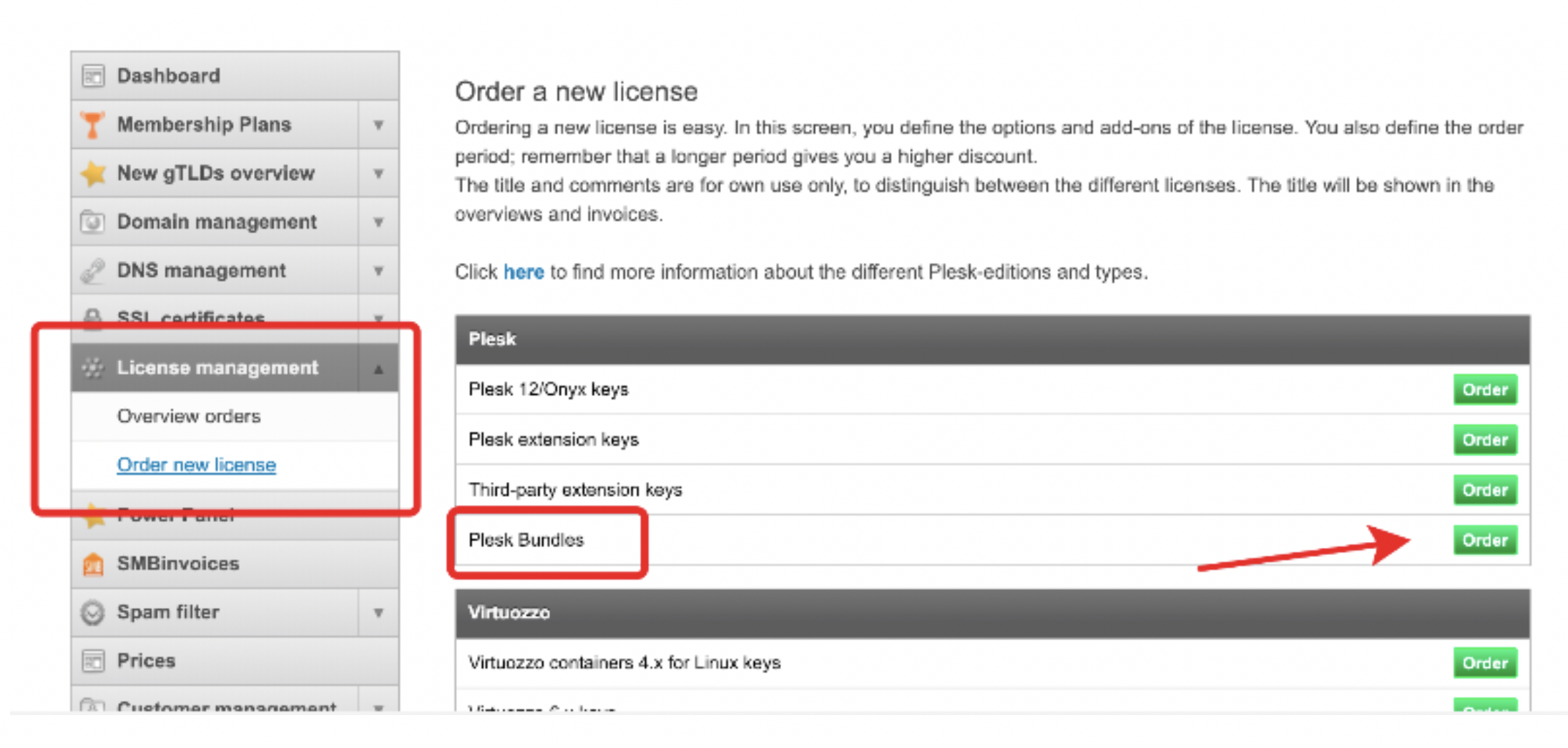 Interested, but not sure where to start? Take a look at this Plesk white paper about how to kick-off managed host business.
Subscribe to our newsletter
What are you waiting for?
Create an account today - it's fast and free