Who gets your vote for the .eu Web Awards 2018?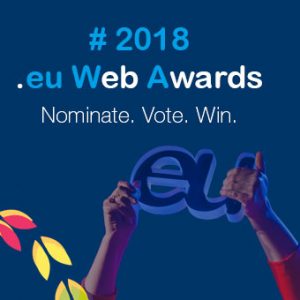 Of course, EURid is known as the registry operator for .eu and – as of two years – the Cyrillic variant .ею. However, EURid does not only value its registrars. Through the annual .eu Web Awards, which they are organizing for the 5th time already, EURid shows their appreciation for the domain holders. After all, they are the ones that put outstanding efforts into the website design and content creation for their .eu domains. The goal of the awards is to showcase the beauty, innovation and impact of the many .eu websites on the Internet. Participating is a great way for your customers to attract more visitors to their websites.
Until the 1st of August 2018, you can vote and nominate your favourite .eu website the .eu Web Awards. In each category (Leaders, Rising Stars, Laurels, House of .eu and Better world) EURid will select three finalists. They will then present the winner of each category at .eu Web Awards gala on the 21st of November in Brussels.
Don't think the winners only get fame. Every winner will receive a two-month billboard advertising campaign at Brussels Airport, a custom 1-minute video produced by EURid for promotional purposes, a custom trophy and a personalised certificate.
Nominate your favourite .eu website now, and spread the word to your customers and through #2018euWA!
Subscribe to our newsletter
What are you waiting for?
Create an account today - it's fast and free