Domain industry news roundup – July 11, 2023

Welcome to the first edition of our new, recurring domain industry news roundup! Find out what has been happening in the domain industry in the past two weeks and stay up to date with the latest news.
Domain sales June 19 – July 2
Summer is usually a quiet season when it comes to high-value domain sales. That's why it is no surprise that we are mostly seeing numbers in the low five figures on the past two weeks's domain sales. Below, you can find an overview of the top 10 highest-grossing domain sales from June 19 to July 2, 2023: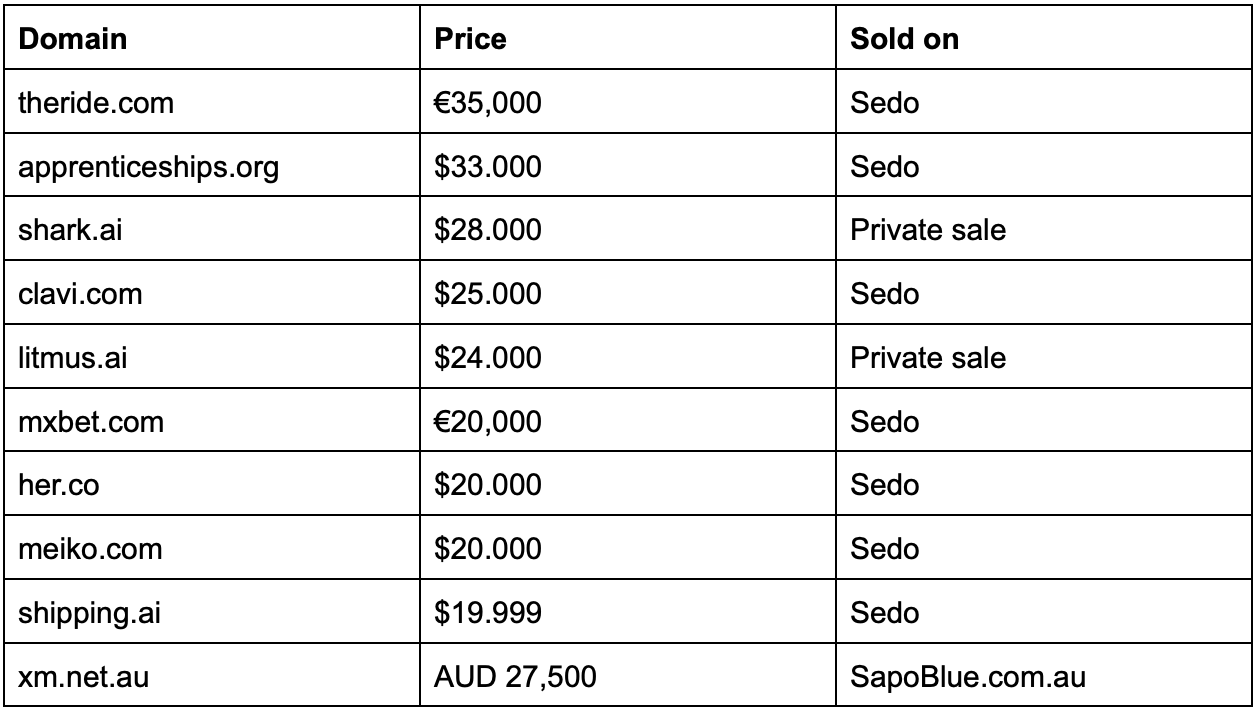 The AI boom is continuing – and extending to domain names
Three of the ten biggest domain sales from the past two weeks were .ai domains. That's just the tip of the iceberg when it comes to the current, booming popularity of this domain extension. While starting out its life as the ccTLD for a small island territory in the Caribbean Sea, .ai is currently experiencing a large surge in growth. Registrations of .ai domains have gone up by 156% this year when compared to the previous year. Most of this growth occurred after the launch of ChatGPT in late November 2022.
ICANN enters into .net contract extension with Verisign
On Thursday, June 29, ICANN renewed its contract extension with Verisign for the .net registry until June 30, 2029. This renewal will allow Verisign to increase wholesale prices for .net by 10% a year. While the current wholesale price is $9.92, the new agreement gives Verisign the right to increase prices to $19.31 at the end of the six-year term.
Google Search official opens up about the difference between gTLDs and ccTLDs
Google executive John Mueller recently made some enlightening comments about domain extensions and their relationship to SEO results on Reddit. As a Google Search Advocate, he is one of the few people in the world who has concrete insights into the mechanisms that determine how Google ranks websites in search results.
On the thread, Mueller remarked that using ccTLDs can often be a smart choice. He recommends them to website owners who are targeting the associated market of a ccTLD, as well as to those who are targeting customers globally. However, he advises against using ccTLDs to achieve "domain hacks" (such as nationwi.de) if you are not selling in the associated country. On top of that, he also advises against using "cheap" TLDs that are overrun with spam. Using these will likely not be beneficial for the SEO results of a serious website.
Mueller further clarified that all new TLDs are automatically considered gTLDs, including geoTLDs like .nyc and .berlin. .ai is also currently treated as a gTLD by Google, in spite of originally being considered a ccTLD.
London Domain Summit set for August 2023
If you're looking to expand your professional network, discover new products and services, or soak up the knowledge and expertise of the domain industry's most influential voices, London Domain Summit is the place to be. This annual B2B convention will return to the city of London on August 22 and 23, 2023. You can find more information about the program on the London Domain Summit's website. Tickets are free for individuals and £50 for companies.
New Domain Days conference is scheduled for November 2023 in Dubai
Large domain industry events, such as CloudFest and NamesCon, have until now mostly been centered around the Western world. However, this may now be about to change. The first edition of a new conference, called Domain Days, is now scheduled to be held in Dubai on November 1 and 2, 2023. 
Domain Days is the brainchild of Dubai-based entrepreneur Munir Badr. Badr aims to center the conference around major industry players from the Middle East & North Africa (MENA) region. Some of the invited experts include domain registrars, registries, investors, hosting providers, and Web.03 and Blockchain experts. 
Subscribe to our newsletter
What are you waiting for?
Create an account today - it's fast and free