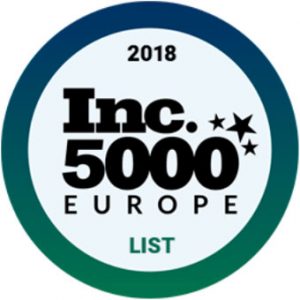 Dear Openprovider,
On behalf of Inc, I am delighted to inform you that Openprovider has earned the position of 3588 on the 2018 Inc 5000 Europe, Inc 's ranking of the fastest-growing privately held companies in the European continent. The full rankings are live at Inc.com from February 28, at inc.com/inc5000eu
For 37 years, Inc has welcomed the fastest-growing private companies into a very exclusive club. To be sure, considering the millions of private companies operating throughout Europe, being listed on the Inc 5000 Europe is a significant achievement. The median company on the list increased sales by more than 254 percent since the start of 2013, while the average honouree grew a mind-boggling 473 percent. Those are results most companies could only dream of in the economy of the past three years.
As an Inc 5000 Europe honouree, Openprovider now shares a pedigree with Intuit, Under Armour, Microsoft, Timberland, Pandora, Patagonia, Oracle, and dozens of other prominent recent U.S. alumni. In addition to Openprovider, the Inc 5000 Europe list added notable companies such as HelloFresh, Dyson, Moo and Coolblue. You are in some pretty impressive company—which is exactly where you belong.
Congratulations to you and your team! You should be proud of all Openprovider has achieved to date. I wish you many more years of success.
Sincerely,
Eric Schurenberg
President and Editor-in-Chief
Inc. Magazine
Subscribe to our newsletter
What are you waiting for?
Create an account today - it's fast and free